Lois Sherman Hagarty, Principal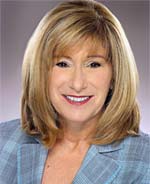 Lois Hagarty is a 13-year veteran of the Pennsylvania Legislature. While a state representative, Lois was active on the Judiciary and Business and Commerce Committees. Her primary work in the legislature focused on judicial reform, family law, criminal justice, and economic development in southeastern Pennsylvania. She served as the House Republican Caucus representative on the Board of the Southeastern Pennsylvania Transportation Authority ("SEPTA"), and as a member of the Pennsylvania Commission on Crime and Delinquency. Before becoming a member of the Pennsylvania Legislature, she served as First Assistant District Attorney for Montgomery County.
Lois specializes in healthcare, and economic development. Her healthcare practice has included clients engaged in providing services to the Pennsylvania Department of Public Welfare (DPW) in the areas of managed care, behavioral health and substance abuse, pharmaceutical services, and services to individuals with intellectual disabilities.
She currently leads State Street Advisors' Economic Development Practice Group.  While serving as an elected official from Montgomery County, Lois played a major role in laying the groundwork for the revitalization of Conshohocken. She was instrumental in obtaining the first Economic Enterprise Zone designation for the Borough. This designation created tax breaks and other incentives which made the borough's revitalization possible. In addition, Lois serves as a consultant to the Municipality of Norristown, offering her expertise in community revitalization and redevelopment.
Public sector financing for economic development projects requires a sophisticated understanding of community interests, government processes, and project financing. Lois brings the expertise and experience it takes to create partnerships to revitalize communities and convert industrial properties into thriving new environments. She has played a key role in project teams that developed office towers on abandoned riverfront land, mixed use developments in older communities, a convention center hotel, and housing projects that have anchored the revitalization of neighborhoods. Through her intimate understanding of the Keystone Opportunity Zone (KOZ) legislation in the Commonwealth, she played a key role in the development of Brandywine Realty Trust's Cira Centre, a jewel of the Philadelphia skyline.
Ms. Hagarty is a three-time alumna of Temple University, having earned her bachelor's, master's and law degrees from the University.
Contact Lois Hagarty: 215.972.8592 or 717.230.8782 or email lhagarty@StateStreetPA.com
[top]
Richard W. Hayden, Principal
Dick Hayden has been providing strategic government affairs advice and client advocacy for nearly twenty years in Harrisburg and selected jurisdictions throughout the Commonwealth. His legal and legislative experience helped him establish a reputation as a thorough, knowledgeable advocate for clients. He is selective in his client engagements, choosing to focus on clients that need a fully engaged consultant.
Dick's specialty areas include health care, energy and environmental matters, and public sector marketing. His health care work has included client contracting issues with the Department of Public Welfare, regulatory policy development, and state implementation of federal initiatives. He has worked with leading environmental services companies and project developers, providing a comprehensive list of services ranging from due diligence on site selection and permitting, in addition to traditional legislative lobbying activities. His consulting services have recently expanded to include providing public sector market assessments for newer companies seeking formal regulatory recognition of their products. In addition, he represents larger national companies seeking to secure contracts in response to targeted state and local procurements.
During his tenure in the state House of Representatives, he was heavily engaged in the passage of legislation covering environmental and insurance issues. In recognition of those efforts, he received the Mid-Atlantic Air and Solid Waste Management Association Legislative Achievement Award for his leadership on environmental issues. He chaired the Pennsylvania Low Emission Vehicle Commission and also served a term on the Delaware Valley Regional Planning Commission. Recently, he served as counsel to Philadelphia Mayor Michael Nutter's Transition Committee.
He received his undergraduate degree from Boston College. He also holds a J.D. from the Villanova University School of Law.
Contact Dick Hayden: 215.972.8591 or 717.230.8781 or email rhayden@StateStreetPA.com
[top]
Jeffrey D. Sharp, Principal
Jeff Sharp joined the firm's Harrisburg office in 2007 and concentrates his practice in the health care, insurance and transportation industries. Jeff is a veteran Harrisburg lobbyist with more than two decades experience with Pennsylvania state government.
Jeff's extensive and diverse background includes managing state government relations for Eli Lilly and Company in a five-state Mid-Atlantic region. Jeff served in leadership roles in pharma/biotech industry government relations efforts, both in Pennsylvania and on a national level, and possesses extensive knowledge of industry, Medicaid and PACE program issues.
Prior to joining Eli Lilly, Jeff was Director of Government Affairs for the Insurance Federation of Pennsylvania (IFP), representing over 200 life/health and property/casualty insurance companies. During his tenure at IFP, Jeff directed lobbying efforts on major insurance legislation including: annuity tax repeal, workers compensation reform, demutualization, banks sale of insurance, and various health and auto insurance issues.
Before delving into the insurance and health care industries, Jeff served as Vice President of Government Relations for the Associated Pennsylvania Constructors (APC) – the state's trade association representing the highway construction/engineering industry. In this capacity, Jeff developed a successful legislative effort to achieve funding increases for both the highway and public transit industries that was recognized nationally by the American Society of Association Executives.
Jeff began his career in staff positions in both the Pennsylvania Senate and House of Representatives, where he specialized in transportation and economic development issues.
Jeff holds a Master of Public Administration degree from the Pennsylvania State University and a Bachelor of Arts in Political Science from Susquehanna University.
Contact Jeff Sharp: 717.230.8783 or email jsharp@StateStreetPA.com
[top]
Nancy J. Rowe, Director of Research
Nancy Rowe is a skilled specialist in legislative process and procedure with 30 years of experience in legislative research and writing, both on the state and federal levels. In this capacity, she serves as the firm's knowledge base, tracking issues, legislation, and agency activities. Nancy is also State Street Advisors' in-house expert in matters of compliance and regulation.
Nancy began her professional career in Washington D.C., where she staffed several important Congressional subcommittees. She served in the office of U.S. Senator Patrick J. Leahy as Assistant to Chief Counsel and former White House Chief of Staff, John Podesta.
During her Washington years, Nancy served as a reporter and associate editor for Congressional Quarterly, Inc., researching and writing about the activities of Capitol Hill. She also lectured at Congressional Quarterly's seminars on the topic of legislative research. She next served as a legislative specialist for a 200-attorney Washington, D.C. law firm, managing the legislative research department.
Prior to joining State Street Advisors in 2003, Nancy directed the research and legislative tracking services for a high-volume lobbying firm in Harrisburg, Pennsylvania.
Nancy is a graduate of Juniata College.
Contact Nancy Rowe: 717.230.8780 or email nrowe@StateStreetPA.com
[top]
Rick Russell, Senior Advisor
Rick Russell joined the firm in February, 2015 after 15 years as Director of Global Government Relations for The Hershey Company.  During his tenure in Hershey, Rick directed the lobbying efforts for the US, India, Brazil, China and Malaysia.  Primary areas of focus were on international regulatory compliance, business development, and real estate.  In 2013, Rick negotiated one of the largest business incentive packages ever offered by the Malaysian Government for a food manufacturing company to support Hershey's Southeast Asia hub. Domestically, Rick's practice area included business tax, real estate and environmental compliance.
Prior to joining Hershey, Rick served for the Ridge (PA) Administration as Director of Legislative Affairs for the Department of Community and Economic Development and on the PA House of Representatives research staff.
At State Street Advisors, Rick's client work focuses on business taxation, liquor and gaming matters.
Rick has his undergraduate degree from West Chester University in Political Science and a law degree from Widener University. Rick also serves as Adjunct Faculty to Penn State University's School of Public Affairs.
Rick lives in Hershey with his wife and two sons.
Contact Rick Russell: 717.230.8183 or email rrussell@StateStreetPA.com
[top]